Going Dutch 2009
Well we returned to Holland with the IMP for the second time and joined Going Dutch. We didn't drive Brian (Hillman Imp Deluxe) all the way but hooked him up to the back of the camper towed like a dream. Link to the Going Dutch Web Site
We all had a great time and met loads of old friend and some new ones. We also managed to put faces to many of the people on the forum.
This time we did the Harwich to Hook of Holland ferry it was fine like a mill pond both ways.
Great campsite at Krabbeplaat all to ourselves.
Scroll down to the bottom of the page to see most of the cars that attended. or click here
---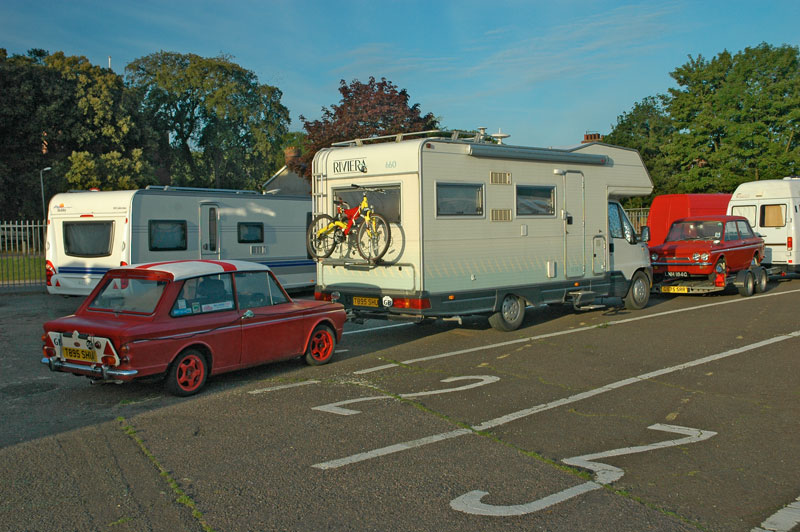 We parked up for the night at Harwich behind Ed Nikel
We met these A35s at Harwich going the other way. Also saw them on the A12 on the way back

Queuing up to cross the small ferry across the river to the camp site

and on it --->

The Camp Site

Hang out the flags out for Brian

Fridays Road trip

Fuelling up

My new electronic distributer breaks down, many thanks to Si for the loan of a D25 to get me going again.

In the driving seat of a London Routemaster :-))

Parked up at the Motor Museum

Imper's at the Delft pottery Factory

The camp

The Rotterdam Barrage

The Sunday line-up

Rosemary Smith in the great convertible

Preparing for the homeward trip
---
Click on any of the thumbnails to see a larger image on the page for that car
then back in the browser to return to this page
---